Georgia O'Keeffe is one of the most significant and intriguing artists of the twentieth century, known internationally for her boldly innovative art. Her distinct flowers, dramatic cityscapes, glowing landscapes, and images of bones against the stark desert sky are iconic and original contributions to American Modernism.
In Year 1, children have the opportunity to write in many different formats, they have guided reading and phonics lessons daily, visit the school library to get a book to take home as well as consolidating and progressing their learning in maths through number, shape, data handling and problem solving.
Reading books go home every afternoon and are brought to school every morning. We encourage the children to read every night. To support maths you could help them to count to 20, 50 and 100 forwards and backwards.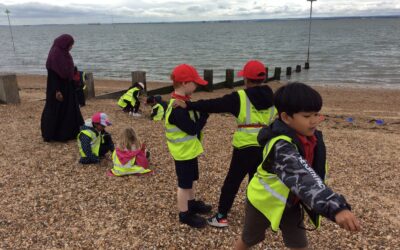 Today we went on a trip to Chalkwell beach! It was such an adventure. First we got the DLR and C2C train to Chalkwell. When we arrived we loved exploring the beach, paddling in the sea, building sandcastles and looking for interesting things in the sand. We had a...