The Lansbury Lawrence curriculum enables our students to develop their confidence, curiosity, and enthusiasm for learning. We inspire students to realise who they are in the world and how the world works around them, to nurture a sense of pride and purpose. 
Our main school driver is our community. During the first half term of each year, the whole school explores a different aspect of our community. This enables our students to learn about the important historical, political, and social aspects of Poplar, and by the end of their time at Lansbury Lawrence, understand why our school and local area is a special place to be. In 2022, we were awarded an Heritage Schools Award from Historic England in recognition of our teaching and learning within local heritage.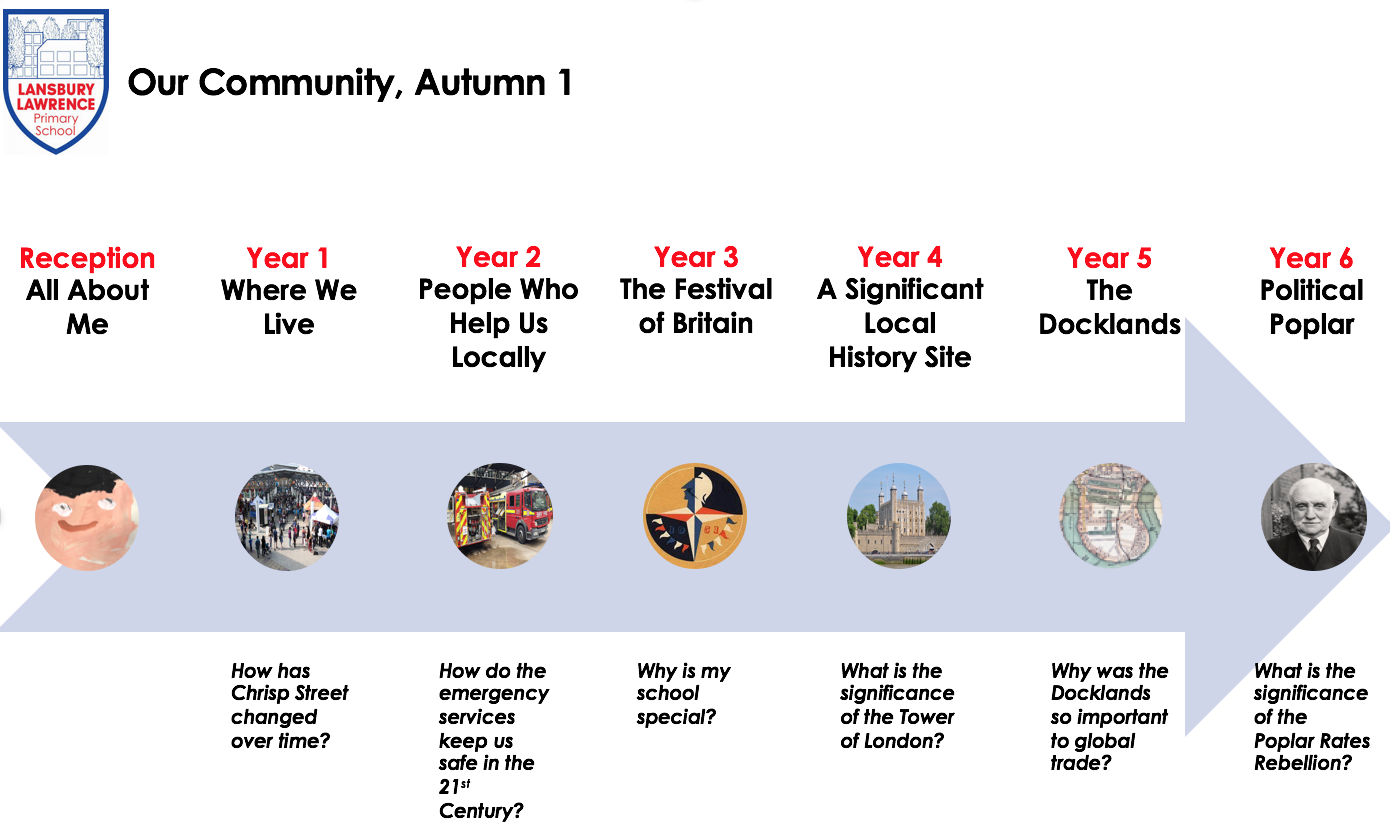 Our curriculum is shaped around half termly learning themes, typically with a History, Geography or Science focus. We plan for progression within each subject and concepts, allowing for connections between learning to be made. Knowledge organisers set out the important, useful, and powerful knowledge within each theme on a single page, with a focus on vocabulary. Guiding questions are embedded and answered at the end of the half term within curriculum books. An enquiry-based approach and weekly Philosophy for Children sessions encourage curiosity and pupil voice.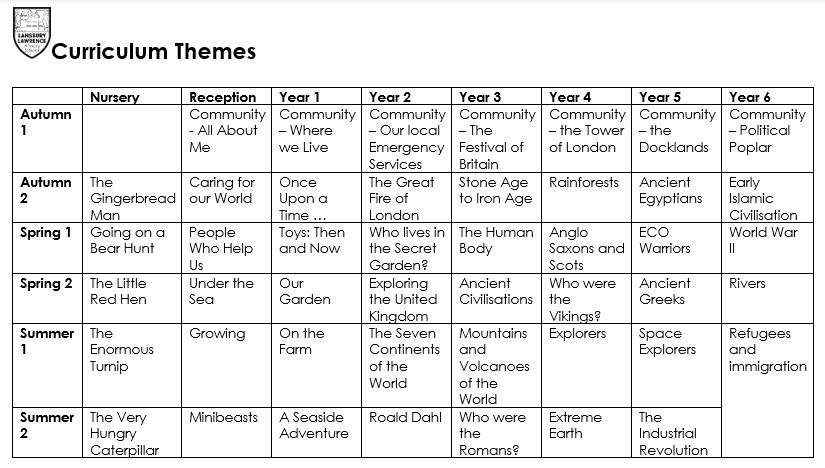 Spring 1:
Nursery are basing their learning around the excellent story by Michael Rosen, We're Going on a Bear Hunt.
Reception are learning all about People Who Help Us, and have an exciting visit from local police officers planned.
Year 1 are learning about the history of Toys; Then and Now. What materials were toys in the past made from, and how do they compare to the toys we play with today? Why have toys changed over time? 
Year 2 are learning about Who Lives in the Secret Garden? Did you know we have a secret garden at Lansbury Lawrence? It's full of lots of amazing habitats. What is a habitat and how do they differ? 
Year 3 are exploring the Human Body. How does our body stay rigid and how can we move the different parts of it? Also, how can we keep our bodies as healthy as possible? How do bodies work so effectively? 
Year 4 are going back in time to learn about the Anglo Saxons and Scots. How do historians know about the Anglo Saxons, Picts and Scots? 
Year 5 are ECO Warriors this half term. They will be exploring recycling, trade, air quality and climate change. How can we make the world a better place to live? 
Year 6 are learning about a very significant historical world event – World War II. They will be visiting the Imperial War Museum and answering the question, what were the causes and consequences of WWII? 
Spring 2:
Nursery are basing their learning around the book, The Little Red Hen by Jerry Pinkney. It is a classic folktale about a chicken and some animals who refuse to help her in the growing and harvesting of wheat.
Reception are immersing themselves Under the Sea; what will they find? They have a trip planned to the nearby Soanes Centre to practise their discovery skills through a pond-dipping activity.
Year 1 are learning about Our Garden and exploring what plants are growing in our Edible playground? They will be working with Joe, our school gardener, and visiting Canary Wharf Crossrail Roof Gardens to compare the plants that are growing there.
Year 2 are  Exploring the United Kingdom What is the United Kingdom and my place within it? We're very proud to live in London, the capital city of England, what are the other capital cities within the UK?
Year 3 are learning about the Ancient Civilisations. What do all the ancient civilisations have in common? A trip to the British Museum will help to reveal similarities and differences through actual artifacts.
Year 4 are moving on in history to learn about the Vikings​. Who won the battle between the Anglo Saxons and Vikings? Year 4 will learn more about the Vikings through a visit to the National Maritime Museum.
Year 5 are learning about the  Ancient Greeks this half term and answering the question, what was their legacy on the western world?
Year 6 are learning about Rivers​. What has changed, and what has stayed the same, about the River Thames over time? A trip mudlarking in Greenwich will support answering this question.
Summer 1:
Nursery are basing their learning around the story of The Enormous Turnip. The moral of this story is of collaboration; if we all work together, we can do anything.
Reception are learning all about Growing this half term. They will be exploring our outside areas, and helping Joe, our gardener, to grow more fruit, vegetables and flowers at school.
Year 1 are learning about life On The Farm. They are continuing to talk to Catherine, a dairy farmer based in Devon, about her life there. They will also visit nearby Mudchute Farm to compare an urban city farm to Catherine's rural farm, and answer the question, What is a farm and what could you find there?
Year 2 are exploring The Seven Continents of the World, and investigating the question, What are the different interpretations of Christopher Columbus? They will be visiting the Museum of London Docklands as part of this learning.
Year 3 are learning about the Mountains and Volcanoes of the World. Where are the mountains and volcanoes of the world, and how are they formed?
Year 4 are learning about Explorers and answering the question, Why do humans explore?
Year 5 are also exploring this half term; they are Space Explorers​. How does the solar system work together? A visit to the Greenwich Observatory will support this learning.
Year 6 are learning about Refugees and Immigration​. What is the rich history of migration in Tower Hamlets? A visit to Brick Lane will help to uncover this history.