The Lansbury Lawrence curriculum enables our pupils to develop their confidence, curiosity and enthusiasm for learning. We inspire pupils to realise who they are in the world and how the world works around them, to nurture a sense of pride and purpose.  
Each half term we have different learning themes within each year group across the school. The overview of our learning is below: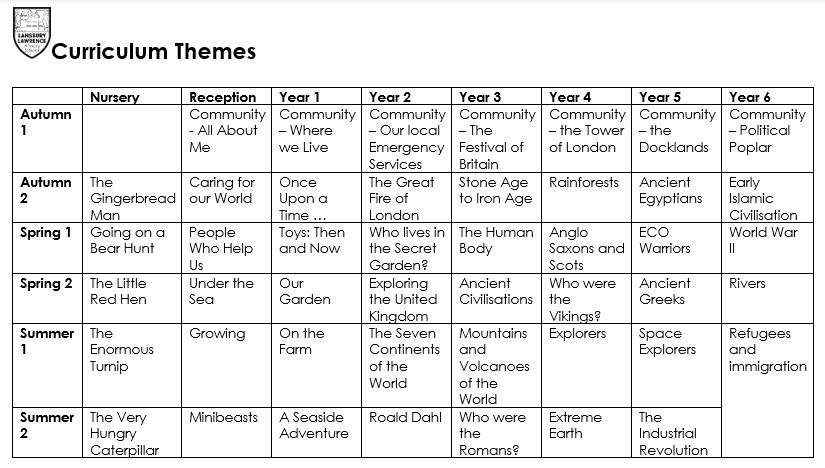 Spring 1:
Nursery are basing their learning around the excellent story by Michael Rosen, We're Going on a Bear Hunt.
Reception are learning all about People Who Help Us, and have an exciting visit from local police officers planned.
Year 1 are learning about the history of Toys; Then and Now. What materials were toys in the past made from, and how do they compare to the toys we play with today? Why have toys changed over time? 
Year 2 are learning about Who Lives in the Secret Garden? Did you know we have a secret garden at Lansbury Lawrence? It's full of lots of amazing habitats. What is a habitat and how do they differ? 
Year 3 are exploring the Human Body. How does our body stay rigid and how can we move the different parts of it? Also, how can we keep our bodies as healthy as possible? How do bodies work so effectively? 
Year 4 are going back in time to learn about the Anglo Saxons and Scots. How do historians know about the Anglo Saxons, Picts and Scots? 
Year 5 are ECO Warriors this half term. They will be exploring recycling, trade, air quality and climate change. How can we make the world a better place to live? 
Year 6 are learning about a very significant historical world event – World War II. They will be visiting the Imperial War Museum and answering the question, What were the causes and consequences of WWII?