Hello and welcome to our Nursery!
We have our own designated site for our Nursery children, providing an exciting area for them to settle and develop during their early stages of life. The classrooms are equipped with a range activities that provides a multi-sensory environment to give them best start in life.
In 2017, Ofsted reported that "the rich learning environment ensures that children develop an enthusiasm for learning and make strong progress from their starting points" and practitioners "exemplify the strong pastoral care offered to children in the early years"
Nursery admissions
The council, following a statutory consultation with stakeholders and residents of Tower Hamlets, has coordinated admissions for primary school nursery classes and maintained nursery schools since September 2019.
Children will usually start nursery school or a nursery class attached to a primary school in the September following their third birthday. However, it is possible for eligible children to access a funded nursery place from the beginning of the term after their third birthday.
How to apply:
If you would like a nursery place for September 2021, you must submit an online application by 16 February 2021.
You should apply online at www.eadmissions.org.uk.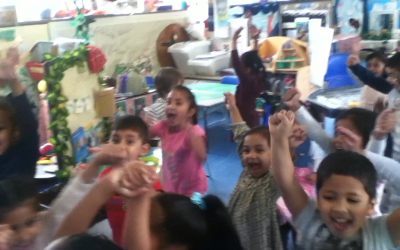 Bluebell Class had a fantastic music lesson last week. Singing and dancing songs that they have been practising. Great Fun! Click link below to watch video.